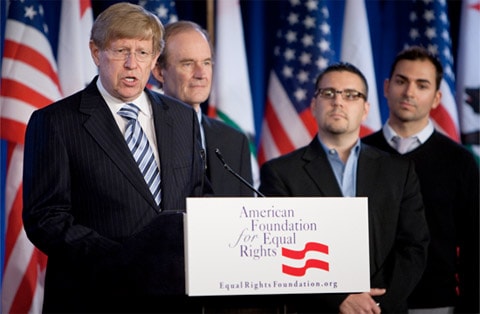 With the federal challenge to Prop 8 scheduled to begin in just days, a new website has been set up by attorneys Ted Olson and David Boies and the group opposing Proposition 8 — the American Foundation for Equal Rights.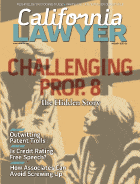 California Lawyer's current cover story deals with the Prop 8 trial and how Olson and Boies got involved.
TIME magazine posted a piece today on the trial: "The trial begins Jan. 11 in a 17th-floor courtroom in downtown San
Francisco, and is expected to last two to three weeks. U.S. District
Judge Vaughn Walker convenes a hearing Wednesday over whether to take
the rare step of allowing the trial to be broadcast, despite strong
objections by defenders of Prop 8 — the 2008 voter initiative that
ended gay marriage in California. Televised or not, the trial will be
the first in federal court to answer the question of whether the U.S.
Constitution forbids states like California from restricting marriage
to opposite-sex couples."
Federal Prop 8 trial judge Vaughn Walker is also seeking public comment on televising it. Olson and Boies support the broadcast of the trial while Prop 8 backers don't want their evil deeds exposed in a televised courtroom.
Comments are due Friday and should be sent to:
Hon. Phyllis Hamilton
Chair of the Rules Committee
United States Courthouse
1301 Clay Street
Oakland, CA 94612
Hon. Vaughn Walker
Chief Judge
United States Courthouse
450 Golden Gate Avenue
San Francisco, CA 94102