And, they're back…the bigots, that is…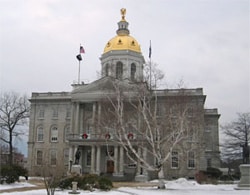 "Three weeks after New Hampshire legalized gay marriage, opponents will ask a House committee Wednesday to repeal the law and let voters amend the constitution to define marriage as between one man and one woman. The House Judiciary Committee is holding hearings on the two measures that many expect the House to reject when they are brought to the floor in the next few weeks.
Opponents know their chances of success are slim at this point, but they are looking to the November election in hopes Republicans will regain control of the Statehouse and succeed then in repealing the law.
Opponents of marriage equality are planning town meetings this spring to engage the public and pass nonbinding resolutions against equality.
"State Rep. David Bates, a Republican from Windham, is organizing the
petition effort to put gay marriage before town voters. He said Tuesday
that petitions have been certified in 108 towns. He expects petitions
to be completed by a Feb. 2 deadline in about 150 of New Hampshire's
more than 200 towns that hold meetings each spring. Petitions must be
signed by 25 registered voters in the town to be put on the agenda."