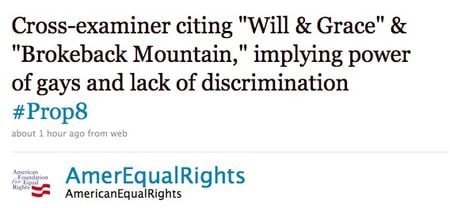 From Day 3 of the Prop 8 trial via LGBT POV. Karen Ocamb citing some liveblogging of the trial by Davina Kotulski:
DAY 3 MORNING
YOU ALL HAVE BROKEBACK MOUNTAIN AND IT EVEN GOT AWARDS— GAY DISCRIMINATION IS OVER

Thompson, the smug attorney for the Proponents of Prop 8, is taking
the position that gays are not being discriminated against any more and
so that cannot be the reason that Prop 8 passed.

He makes a point and then asks Professor Chauncey if that is correct.

He's mentioning Will and Grace, the movie Philadelphia, and
Brokeback mountain as evidence that LGBT people are not being
discriminated again.

NANCY PELOSI IS A GAY RIGHTS CHAMPION, RIGHT?

Did I miss something? Nancy Pelosi is our fierce advocate?

Thompson says she is.

Thompson-"Homosexuals couldn't get hearings in the 1950s, but today
you have Barney Frank and he's a powerful ally of gays and lesbians,
correct?"

Thompson, "You have AIDS funding, isn't that important to gays and lesbians, correct?"

Thompson, "Thousands of employers have non-discrimination policies,

correct?"
The citation was confirmed via Twitter by the American Foundation for Equal Rights (top).