Gay bashing brawl under investigation in Clear Lake, Iowa. "A man was reportedly dancing when he was slammed to the ground and beaten by another patron who made rude references to the man's sexual orientation.
A friend of the victim then reportedly tried to pull the attacker off of him and that resulted in other patrons getting involved.
Peterson described the scene as 'mayhem.'"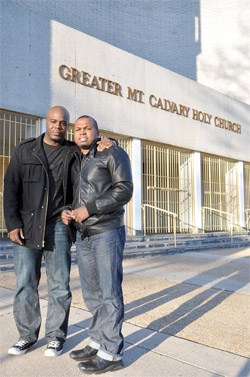 Black gay couple walk out of Mount Calvary Holy Church during anti-gay sermon: "Mack and Garrett, 32, contacted DC Agenda about their decision to walk
out on Owens' sermon and are believed to be the first gays to publicly
disclose their departure from a church that activists say has a large
number of closeted gay members, mostly black."

Susan Boyle has new airport meltdown: "The source went on to explain that while SuBo was waiting to board a
flight to Chicago, she suddenly grabbed a cleaning product out of a
janitor's cart and used it as a fake microphone…"

Jesus Luz shows some bush.

Drug resistant HIV poised for surge, self-sustaining epidemics: "When
the team used the model to look into the future, it predicted a rapid
upsurge in the spread of resistant strains. The model suggested that
60 per cent of the resistant strains currently circulating in San
Francisco could cause "self-sustaining epidemics", says Blower, in
which each infected individual spreads the resistant strain to more
than one new recipient."

700 Club issues non-apology for Pat Robertson comments.

Kelis tells PETA off: "I would eat pterodactyl if you found some and you told me it was meaty and delicious."

Details: High school quarterback turns lesbian filmmaker.

D.C. sees second slaying of gay man in two weeks: "There is no indication at this time that this homicide occurred as a result of a hate crime."

Maryland delegate introduces anti-gay bill: "Del. Emmett C. Burns Jr.'s measure would also declare that marriages between individuals of the same sex are against the public policy of the state of Maryland.
The House of Delegates Judiciary Committee has rejected similar measures introduced before, which prevented the bill from going to the House floor for debate.
In neighboring Washington, D.C., gay couples will likely be able to apply soon for marriage licenses. The district's City Council passed a bill last month legalizing same-sex marriage."

Glee's Matthew Morrison to release debut album.

Documentary about killing of gay Liverpool teen Michael Causer to be screened at Istanbul International Film Festival: "We are all really excited that such an important film is being shown in
Turkey. The international struggle for LGBT equality and acceptance is
one which is the central message of this film. What happened to Michael
Causer was a travesty of justice and was plainly ignored by many in the
national media."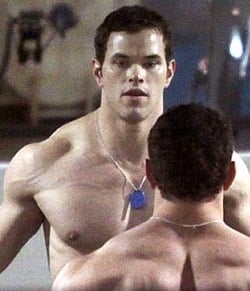 Kellan the Barbarian?

Pope defends invitation of Anglicans disaffected by gay policies to convert: "Benedict told members of the Vatican's Congregation for the Doctrine of
the Faith that the invitation wasn't an attack on the church's
reunification efforts with other Christians but designed to help them
by bringing about 'full and visible communion.'"

Bruce Weber's All American.

British auto show Top Gear slammed for not allowing gay couples in studio audience: "It's very odd, but what do you expect from pigs that grunt? Regrettably, with Jeremy Clarkson involved, it's not surprising. The show itself is full of stereotyping of both men and women – but it's funded by gay and lesbian licence fee cash as well as everyone else's. Arguably, this is a breach of the Sexual Orientation Regulations 2005."