Less than a week after burying his gay son Brendan, Toronto Maple Leafs coach Brian Burke was working again on Friday night, as general manager of the U.S. Olympic hockey team.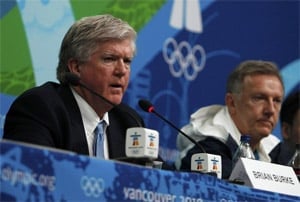 Said Burke: "My family needs me to be strong right now and my teams need me to be strong — Toronto and this team,". So I think part of leadership is dealing with personal adversity or personal difficulty. So no, there was never a thought of not coming or doing anything different. The one change I made was that I didn't feel like marching in the Opening Ceremonies (Friday night). But my son would have wanted me to be here."
Burke discussed his son's death on Sunday following a news conference: "I cry less every day. It's been … it's been tough.  I just think about him. He would have wanted me to do this. … He was a courageous kid — a very gregarious kid, a very compassionate kid. He was very bright and cared a lot about people. The saddest part about it was that his future was so bright. The sky was the limit for this kid…We're putting one foot in front of the other, that's what we're doing. "I was asked to do a job here and I'm going to do it. The fact that I've had a tragic event in my life shouldn't change that. USA Hockey asked me to do a job and I'm going to do it."