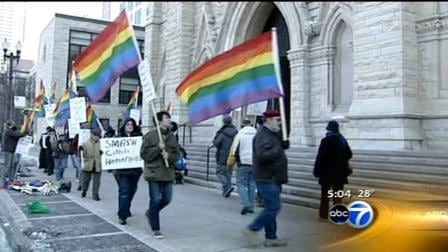 Chicago activist Andy Thayer and approximately 100 supporters from the Gay Liberation Network protested outside the Holy Name Cathedral in Chicago on Sunday, the Chicago Tribune reports: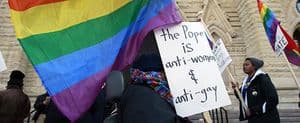 "The protesters waved rainbow flags and shouted slogans like, 'Hey, hey, ho, ho, homophobia has got to go!' and, 'Holy Name, holy shame!'
It wasn't the first time gay-rights activists have protested on Valentine's Day as a chance to champion equal rights and target the Catholic Church.
Last year, the Gay Liberation Network helped organize a march from the city building in which marriage licenses are issued to Holy Name to show support for gay marriage, said Andy Thayer, the group's co-founder.
'We want to drag the church's bigotry out of the closet,' said Thayer, 49.
Protester Andrew Ciscel, of Chicago, said Valentine's Day should be viewed as Freedom to Marry Day. He passed out pamphlets calling on members of the Catholic community to withhold their weekly tithe, confront their priest and criticize the 'rigid definition of families and the patriarchal posture of the church.'"  
(image via chicago breaking news, WLS)