The Iowa Independent reports that right-wing religious extremists are attempting to circumvent House rules to bring an anti-gay marriage bill to the floor of the legislature: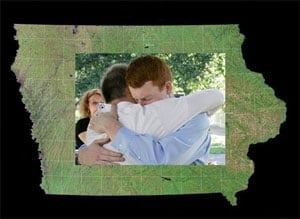 "'Right-wing extremists are resorting to underhanded tactics in an attempt to take away the freedom to marry. While legislative leadership has stood firm in support of equality, extremists are attempting to overthrow House rules and push an anti-marriage amendment to the floor,' said Brad Clark, One Iowa's campaign director.
The group is asking members to call the capitol switchboard and e-mail legislators showing their support for same-sex marriage.
In the closing days of the 2009 legislative session, Republicans in both the House and Senate attempted numerous procedural moves in the hopes of forcing a vote on a constitutional ban on gay marriage, including attaching it to a tax proposal and the state's Health and Human Services budget. Democrats successfully blocked the efforts.
It is still unclear what, exactly, lawmakers plan to introduce. A message to House Republican leadership by The Iowa Independent. was not returned."
Information on contacting Reperesentatives in Iowa can be found HERE.
In related news, Iowa Republican gubernatorial candidate Rep. Chris Rants has promised "to veto any bill,
including the budget, until lawmakers vote on giving Iowans the
opportunity to amend the constitution to define marriage."
Said House Speaker
Pat Murphy, D-Dubuque: "This is why Republicans should not be in charge. They're caught on an issue that most
people don't care about."