A new poll in Iowa shows that most voters don't think the legislature should concern themselves with same-sex marriage, the Des Moines Register reports: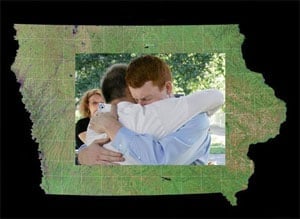 "Among six hot-button topics, a new Iowa Poll shows a majority of Iowans
consider only a ban on text messaging while driving worth the
Legislature's time during a session shortened by 20 days to cut costs.
Iowans are not enthusiastic about devoting time to debates on gay
marriage, puppy mills, gun control, payday loans or gambling. The Democrats who control what comes up for a vote say budget issues
will dominate the 2010 session as the recession continues to pinch state
revenues. But lawmakers have introduced hundreds of bills on other
topics."
In fact, same-sex marriage was voted the topic least worthy of debate: "Only 36 percent of Iowans want lawmakers to focus efforts on the issue."
According to the paper, "Three resolutions call for such an amendment [to the Iowa constitution declaring marriage between a man and a woman]: House Joint Resolution 6, House Joint Resolution 2001 and Senate Joint Resolution 2001. If they were to pass, the measure would require a second vote by the next General Assembly before it reaches a statewide ballot."
Democrat leaders have promised not to call them up for a vote.
Still, GOP lawmakers in the House plan to try to ram them through in a push starting today, the Iowa Independent reports:
"After numerous meetings at the Capitol Thursday, Brad Clark, campaign director for One Iowa, told The Iowa Independent that he expects Republican lawmakers in the Iowa House to attempt to bring about a vote on a constitutional amendment banning same-sex marriage by invoking Rule 60, which allows a majority vote on the floor of the House to pull a bill out of a committee even if the committee has not approved it…Clark said he is optimistic the effort will fail, saying Republicans will have to reach 51 votes in order to bring the bill to the House floor. There are 56 Democrats in the Iowa House and only 44 Republicans, meaning at least seven Democrats would have to support the move for the effort to succeed."