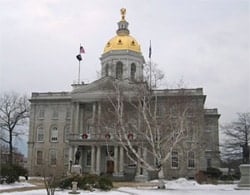 New Hampshire bigots hoping to repeal the state's five-week old marriage law and replace it with a constitutional amendment banning same-sex marriage were dealt a blow today with a legislative committee recommending that their proposal be rejected, the AP reports:
"A House committee is recommending against repealing New Hampshire's five-week-old gay marriage law.
The Judiciary Committee also voted today to recommend that the House kill a constitutional amendment that defines marriage as between one man and one woman. The vote was 12-8 on both measures, largely along party lines led by Democratic opposition."
The House could act on the committee's recommendations as early as next week.