Activists in Rhode Island say they have been assured support of marriage equality from Democratic gubernatorial candidates running for departing anti-gay Governor Donald Carcieri's office, the AP reports: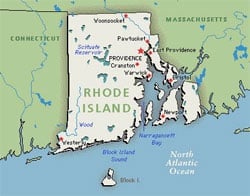 "Attorney General Patrick Lynch and General Treasurer Frank Caprio, the Democrats, and [Lincoln] Chafee have been invited to make their promise public at a Statehouse rally scheduled for March 3, said Kathy Kushnir, executive director of Marriage Equality Rhode Island.
Republican John Robitaille has not responded to an invitation from Marriage Equality, and he did not return a call from The Associated Press seeking comment. Robitaille opposes gay marriage but has said he could support domestic partnerships.
Although the three candidates previously have said they support gay marriage, the pledges come as gay rights activists hope to capitalize on the departure of Republican Gov. Don Carcieri, a staunch social conservative who opposes such unions. State law requires him to leave office after finishing his second term early next year."
Late last year, Carcieri vetoed a bill that would have given funeral rights to the domestic partners of gays and lesbians. Rhode Island lawmakers overrode the veto.
Carcieri, who
is a strong supporter of the National Organization for Marriage
(NOM), also told a crowd of more than 300 at
a fundraiser for the anti-gay group Massachusetts Family Institute that
marriage is "not a civil right". Said the governor: "It is a not civil
right. I get aggravated when it is portrayed that way. Marriage is a
license by the state. It is about a state's
responsibility, which is the reason why states don't allow a lot of
types of marriages."