Texas Attorney General Greg Abbott has intervened in Texas' unprecedented gay divorce case after the judge orally granted the divorce to the lesbian couple involved, the Austin American-Statesman reports: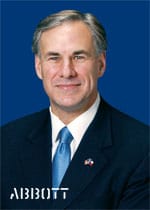 "Last week, at the close of a two-day hearing before state District Judge Scott Jenkins on how they should divide their property and share custody of their son, the two reached an agreement that in part called for them to divorce.
According to Naylor's lawyer, Jennifer Cochran, Jenkins granted the divorce orally and ordered the parties to put their agreement in writing and return to court next month for his signature.
'This is the first time in over a year that our family has been at peace,' said Naylor, who still lives in Austin. Daly has moved to San Antonio with their son.
'We never asked them to grant us a same-sex marriage. We only asked them to legally recognize that we needed a divorce,' Naylor said."
Said Abbott spokesman Jerry Strickland in a statement: "The State maintains that the Court has no legal authority to grant this divorce, and as a result, the State must intervene in this case to defend the Texas Constitution."
Last October, Dallas State District Judge Tena Callahan ruled that the couple could be granted a divorce. Abbott is also appealing that decision.