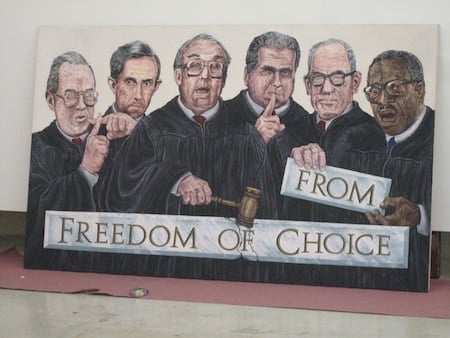 I stopped by the now former Big Lots on Vine the other night to check the progress of  Manifest Equality, an art show which is the culmination of an open contest focused on LGBT civil rights.  The organizers are Jennifer Gross, Apple Via and Yosi Sergant, who resigned as NEA director last fall, having served through Obama's campaign as somewhat of his "hipster publicist." All three are wired into the art and political scenes. Sergent brought Shepard Fairey and Obama together initially for the Hope poster, and this initiative grew out of the similarly structured Manifest Hope contest and show.
The pieces I saw — by gay and straight artists, ran the gamut from kitsch to polemical, disturbing to banal, along with a few I can't get out of my head and will be back to have another look at once they're hung on the wall.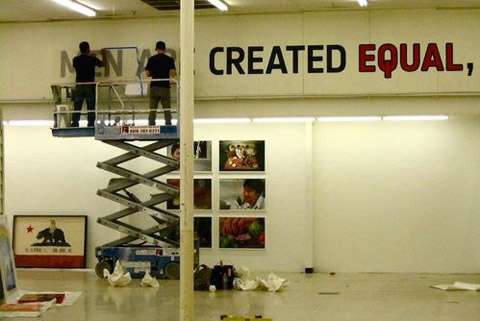 There's a private preview this evening for a small group of artists, collectors and media. It's open to the public with a schedule of events from tomorrow through the closing on March 7th. If you're in LA, it's worth a little effort to go by in the next few days. 
Saturday night, the space was simmering with activity. Organizers were moving pieces, strategizing traffic to the crowd pleasers, bars, and the bathrooms. Two guys were unselfconsciously focused on letter-spacing and leveling the two-foot high stencils near the ceiling that spelled "men", "equal", "endowed" and other words from the Constitution. Finding Roman Alonso, co-founder of Commune and "one of the hottest names in [design]" according a recent LA Times piece, with his sleeves rolled and paint roller in hand  doing his part to make the back wall look like a barn added to the "Hey, let's put on a show" feel. 
Amateur night, this is not. Picking 30 pieces from the hundreds submitted to show alongside works by established/invited artists fell to a masterfully constituted panel of judges including high-profile, straight and gay art world figures (Fairey, Lari Pittman, Ed Ruscha); Media reps; LA Times art critic Dave Pagel and Vogue's Senior West Coast Editor, Lisa Love; a senior curator from LACMA; the director of the Hammer; politicians on the inside (LA Mayor Antonio Villaraigosa) and fighting to get in; and Rick Jacobs, founder of Courage Campaign which will get a significant percentage of proceeds — rising to 50% after costs are covered.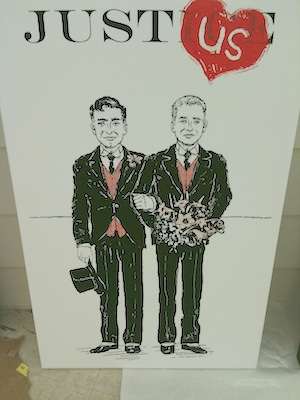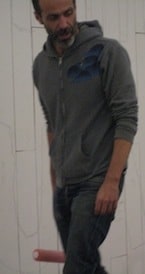 Unwavering support like this has been a long time coming. It's nice to see MoveOn, which usually comes off as ambivalent on gay issues stepping up with Rock The Vote  to partner with national gay groups in support of the show. What? Straight allies who don't need to be taught or told how to be supportive? With initiative and passion of their own? Sounds like the way a "fierce advocate" might work. 
Some may not be ready for the 'age of Aqueerious' though. A friend told me he was trying to figure out the flier for Manifest Equality that someone handed him at the Farmers Market with his arm around a new guy. He looked up and a passer-by read his face and explained,
"It's a bunch of straight artists making gay-marriage art." 
And to some degree that is what it is…
…not that there's anything wrong with that.
Note: The first piece is Robbie Conal's.