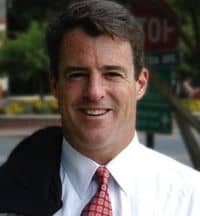 Maryland Attorney General Douglas Gansler has come under fire from one of the state's Republican legislators for his opinions about same-sex marriage. Delegate Don Dwyer has been vocal about his desire to see Gansler impeached proclaiming that the AG "usurped the authority of the Maryland General Assembly."
Yesterday, Gansler's office responded with this: "The Maryland Constitution explicitly states that a 'court of law' is the forum for proceedings to remove an Attorney General."
But don't expect this to be over just yet. Dwyer reacted to with a sarcastic Facebook post which reads in part, "Brilliant, simply brilliant."