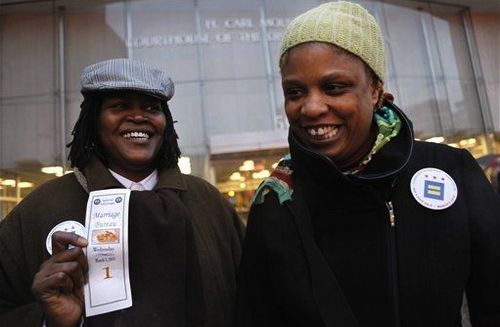 Thanks to yesterday's Supreme Court ruling, marriage equality is headed to Washington, DC. Gay and lesbian couples were allowed to start applying for marriage licenses first thing this morning. The District of Columbia is now the sixth place in the US where gays can marry
legally and the very first located south of the Mason-Dixon line, which is notable at least in its symbolism alone.
Sinjoyla Townsend and Angelisa Young, partnered for 12 years, were the first couple to receive a same-sex marriage license. Young said that "It's like waking up Christmas morning. The marriage bureau was expected to bring in extra employees to help with the number of couples expected to apply for a license.
Due to a provision in the law, marriages cannot be held right away. Instead, "three full days must pass between the day of application to the day that the license can be issued."
So expect full marital bliss in Washington to occur on March 9.