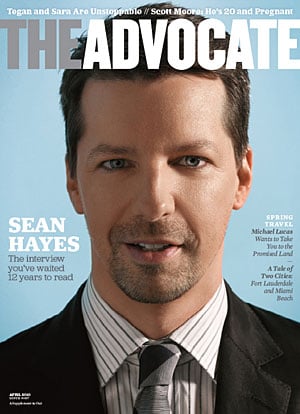 After years of refusing to directly answer questions about his sexuality, Sean Hayes finally sits down with a major GLBT publication to reveals that he is indeed gay. Some highlights from his interview in the April edition of the Advocate: 
"I am who I am. I was never in, as they say. Never."
"Why would you go down that path with somebody who's done so much to
contribute to the gay community?" he asks. "That was my beef about it.
What more do you want me to do? Do you want me to stand on a float? And
then what? It's never enough."
"I feel like I've contributed monumentally to the success of the gay movement in America, and if anyone wants to argue that, I'm open to it. You're welcome, Advocate."