Cyd Zeigler of Outsports caught up with Johnny Weir, who is scheduled to appear at the GLAAD Awards in L.A. on Saturday and at a benefit for Equality California on Sunday.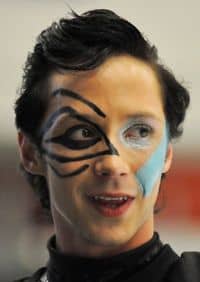 These events are, as far as I know, the first time Weir has made public appearances at LGBT rights events.
Said Weir to Zeigler about recent articles that paint him as "two-faced" for never having said whether he's gay:
"What year do we live in? Is it not 2010? It's not 1910. I think the time for labeling people has come to an end. Everyone needs to move on and live in a way that everyone can live together. Whatever your own personal life is, it doesn't matter. It has no basis on who I am as a person. My sexuality isn't something I keep sacred but it's not something I need to defend. I am so thrilled that GLAAD did come to my defense, but it wasn't only gay groups that came to my defense. For someone to criticize me for not saying yes or no to a question is silly."
Of course, Weir no doubt sees some value in what his sexuality would mean to people.
Writes Zeigler: "Weir told me that he will disclose much of his sexual past in a new autobiography that he is writing, which will come out in 2011. He said he's using the book to tell the full story of Johnny Weir because he can control the message in the book, and because 'there are people out there who want to hear that story.'"