Texas District Judge Scott Jenkins has rejected Attorney General Greg Abbott's request to intervene in the case of two lesbians seeking a divorce in the state, the Houston Chronicle reports: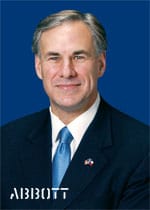 "Abbott's deputies had argued in court filings that Angelique Naylor, 39, and Sabina Daly, 42, may not be legally granted a divorce because Texas law defines marriage as between a man and a woman. Naylor and Daly were married in 2004 in Massachusetts, where gay marriage is legal. They returned to their home in Austin after their marriage and adopted a son who is now 4.
During a hearing, state District Judge Scott Jenkins questioned Abbott's decision to pursue the case, noting that his office is involved in same-sex divorce litigation in Dallas that is already on appeal. That case, Jenkins said, is positioned to provide legal precedent on the legality of gay divorce. He suggested that a delayed disposition in the Travis County case could affect Naylor and Daly's son."
Jenkins granted the divorce orally in February, which prompted Abbott's attempt to intervene. Yesterday, "Jenkins said oral judgments are final in Travis County family cases, where it is critical to allow parties to wrap up litigation quickly and get on with their lives."