That Mark Wahlberg turned down a role in Brokeback Mountain has been written about. Said Wahlberg in a 2007 interview: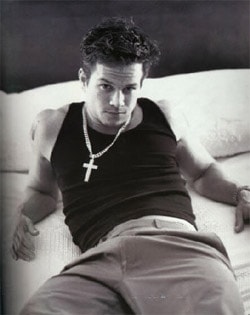 "I met with Ang Lee on that movie, I read 15 pages of the script and got a little creeped out. It was very graphic, descriptive – the spitting on the hand, getting ready to do the thing. I told Ang Lee, 'I like you, you're a talented guy, if you want to talk about it more…' Thankfully, he didn't…I didn't rush to see Brokeback, it's just not my deal… Obviously, it was done in taste – look how it was received."
Now, the National Enquirer reports that Wahlberg turned down the role on the advice of his priest:
"The 38-year-old reformed bad boy relies on his closest confidante and longtime religious mentor, the Rev. James Flavin, to help him pick and choose his parts. 'Mark is a practicing Catholic, and he never makes a final decision on a starring role until Father Flavin gives his OK,' an insider revealed to The Enquirer. 'Mark says he owes his career to Father Flavin.' … 'Father Flavin pushes Mark to honor his religious roots,' said the source. 'Even though Mark was offered one of the leads in Brokeback Mountain, he passed because of the gay subject matter, which clashes with Catholic doctrine.'"
Of course, playing a coke and meth-addicted hustler with a 10-inch penis in Boogie Nights was fine.