A "rally for equality" is scheduled for Friday at 6 pm near Macon, Georgia's City Hall in support of Derrick Martin, the Georgia teen who was recently kicked out of his home after the story broke that he was bringing his boyfriend to prom: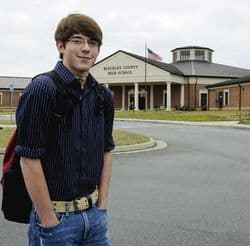 "The Macon chapter of Parents, Families and Friends of Lesbians and Gays is holding the 'rally for equality' at 6 p.m. Friday and says the student, Derrick Martin, as well as Deonna Sage, who performs in drag, will attend. The event is in response to two instances of anti-gay expression in Middle Georgia, according to a PFLAG news release…Friday's rally in Macon is a chance to counter the opposition by showing support for Martin and appreciation to Bleckley County High School for making the right decision to allow the prom date, according to Edric Floyd, chapter co-president of PFLAG Macon.
Sage, who performed during the recent Cherry Blossom Festival fashion show, faced harassment from a few people fueled by a radio talk show host, the release said.
'This is an opportunity to band together in support of our community and both of our members who faced public opposition for being who they are,' the release said."