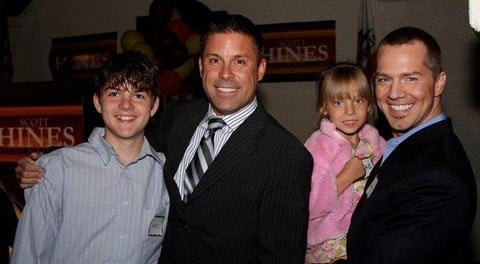 Gay candidate Scott Hines (pictured, left, with his husband Jon and two of their children, Louis and Sage) won election to the Rancho Mirage, California City Council last night by 11 votes, despite being targeted by automated robo-calls and flyers distributed to the city's 9,500 residents insinuating that having a gay man on city council would "infect the city's government."
Said Hines of the attacks: "I am very saddened for many of my friends in this valley who live with HIV and that someone would make light of (their condition), or say if you are friends with a gay person, you infect others."
Hines closest challenger is considering calling for a recount, which he would have to fund.