Brazilian Archbishop Dadeus Grings made excuses for the church's sexual clergy scandal on Wednesday, the AP reports, appearing to blame it on society at large:
Said Grings: "Society today is pedophile, that is the problem. So, people easily fall into it. And the fact it is denounced is a good sign."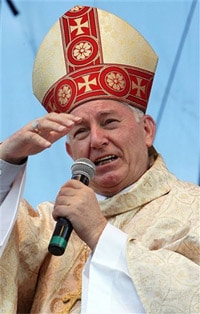 But then of course, Grings had to bring gays into it:
"The archbishop also said it was important to help children avoid homosexuality.
'We know that the adolescent is spontaneously homosexual. Boys play with boys, girls play with girls,' he said. 'If there is no proper guidance, this sticks. The question is — how are we going to educate our children to use a sexuality that is human and suitable?'" 
(Sorry dude. I tried to make the heterosexuality stick with plenty of proper guidance, and it didn't work. That isn't how it works.)
And then, he goes on to link the two:
"Grings also said the acceptance of homosexuality in society could pave the way for the acceptance of pedophilia.
'When sexuality is trivialized, it's clear that this is going to affect all cases. Homosexuality is such a case. Before, the homosexual wasn't spoken of. He was discriminated against. When we begin to say they have rights, rights to demonstrate publicly, pretty soon, we'll find the rights of pedophiles,' he said."
According to AP, "Grings is the archbishop of the Porto Alegre diocese, one of the largest in Brazil, which has more Catholics than any other nation. He also serves as the chancellor of the Catholic University of Rio Grande do Sul. Grings denounced the abuse within the church, but he said internal punishment of priests guilty of abuse was sufficient and that police should not be involved. 'For the church to go and accuse its own sons would be a little strange,' he said."
In March, the sexual abuse scandal eclipsed Brazil as three priests were accused of sexual abusing altar boys after a video showing one of them in action was shown on Brazilian TV.