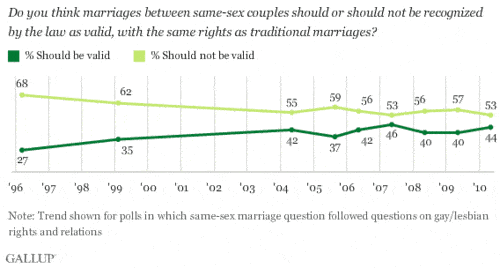 Gallup reports on some new marriage equality poll numbers:
"Opponents of legalizing same-sex marriage continue to outnumber supporters in the United States, by 53% to 44%. However, opposition is now tied for the lowest Gallup has measured. Support was slightly higher, at 46%, in 2007.
These results are based on Gallup's Values and Beliefs Poll, which has tracked attitudes toward legal same-sex marriage annually since 2004. When Gallup first asked about the legality of gay marriage in a 1996 poll, 68% of Americans were opposed and 27% in favor.
Since that time, support has increased among the major political and ideological subgroups, though more among those on the left of the political spectrum than among those on the right. Currently, a majority of Democrats favor legal gay marriage, as do a majority of moderates and liberals, with liberals the most supportive of these groups, at 70%.