Hawaii Governor Linda Lingle, on whose desk sits a civil union bill passed by the legislature awaiting signature, says she's still thinking about what to do with it, but her comments thus far have echoed those of the religious conservatives who oppose it, the Honolulu Advertiser reports: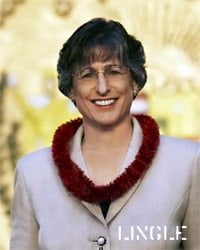 "Gov. Linda Lingle said yesterday that she has not made up her mind on civil unions but described the bill passed by the state Legislature as the equivalent of same-sex marriage…'It does appear to me on reading it, that it really is same-sex marriage, but by a different name,' Lingle told reporters during a break at the state GOP convention at the Hilton Hawaiian Village in Waikīkī. 'But I want to wait and hear people out.'
Lingle has said in the past that she would consider some form of domestic partnership legislation but she has opposed same-sex marriage.
The governor made it clear yesterday that she believes domestic partnerships are different from the civil unions described in the bill.
The bill would give same-sex and heterosexual couples who enter into civil unions the same rights, benefits and responsibilities as in marriage under state law."
Lingle has until July 6 to veto the bill but she must inform the legislature 10 days prior if she plans to do so.
Lingle's contact information can be found here.