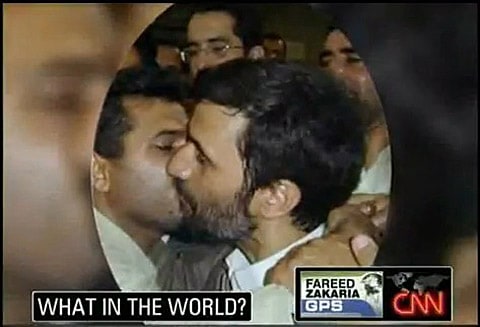 Maziar Bahari, a Newsweek reporter who was jailed after covering the Iranian elections, subjected to a show trial, and after 180 days of imprisonment, released and allowed to leave the country, received a sentence in absentia of 13 years and six months, plus 74 lashes.
CNN's Fareed Zakaria reports that the 13 years and 74 lashes were for reporting on the clash between the Iranian military and protesters. The six months, he say, were for the photo you see above. A friend of Maziar's had posted it on his Facebook wall, and authorities said that Maziar was insulting Ahmadinejad by implying he is gay.
But, of course, there are no gays in Iran, at least according to Ahmadinejad.
Watch Zakaria's report, AFTER THE JUMP…