Mohammad Abdollahi, an undocumented gay Iranian who was part of a sit-in Immigration protest at Senator John McCain's office in Tucson, Arizona on Monday night, is now in the custody of Immigration authorities with a court date of June 16, the Free Press reports: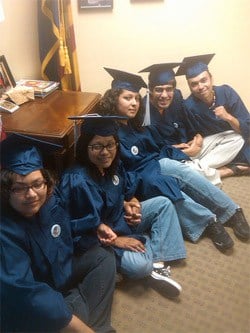 "Brooke Buchanan, a spokeswoman for McCain, said Tuesday that the office gave the protesters leeway and did not immediately call police when they arrived at the office. McCain's office let them even stay inside the office one hour past closing time.Buchanan said that McCain, an Arizona Republican, is committed to immigration reform, but she said that he believes the U.S. must first secure its borders.Abdollahi moved to the U.S. with his family when he was 3 years old. He said in an online profile that he fears deportation back to Iran because of that country's stringent laws against homosexuality.Abdollahi and the other protesters are calling for passage of the DREAM Act, legislation that would reform the nation's immigration laws."
Steve Ralls of Immigration Equality spoke up for Abdollahi in the Huffington Post:
"In today's Arizona, the fact that Mohammad Abdollahi is willing to speak up would be cause enough for concern. Abdollahi, who has been in the United States since the age of 3, risks arrest and deportation simply by being visible. Under the state's new, anti-immigrant law, his mere presence means risking his continued residency in the only country he has ever known well enough to call it 'home.'Add to that, however, the fact that Abdollahi (who currently lives in Michigan) is gay, and originally from Iran, and you can begin to understand the true courage behind his current sit-in at the office of Senator John McCain.If he is arrested, the 24-year-old faces deporation to one of the most notoriously homophobic countries in the world. Lesbians and gays are routinely tortured, and even executed, in Iran. There is little doubt that, if he is forced to return there, Abdollahi will, too, face unspeakable persecution simply because of who he is."
Michigan legislators have not been sympathetic to Abdollahi's case, the Michigan Messenger reports: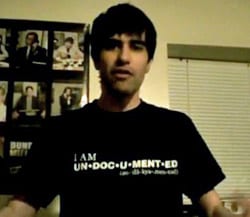 "Two Michigan legislators who held a rally against illegal immigration on the grounds of the Capitol building in Lansing on Tuesday were less than sympathetic to Abdollahi's cause.'Americans cannot be accountable for the type of government other countries have, nor should we be responsible for it. So the fact an individual comes here because they choose a specific lifestyle that is illegal in their own country doesn't necessarily mean they should get amnesty here,' said Rep. Kim Meltzer (R-Macomb Twp.). 'They have to go back to their country and fight for a democratic process — just like we in our country and we've fought for it and we're fighting for it still.'  … 'That's an unfortunate scenario,' said Meltzer. 'I think it's terrible you can executed for that, but how is that America's problem?'And while Meltzer said she would 'certainly hate' for Abdollahi to go back to his country and face execution for 'any reason,' she said she was unsure if she could intervene on his behalf. She did not rule out intervening with federal authorities on Abdollahi's behalf."
A report on the arrests and a video from Mohammad, who calls himself Mo, explaining his situation, AFTER THE JUMP…