Carrie Prejean to get opposite married.

Senator Byrd to lie in repose in Senate chamber.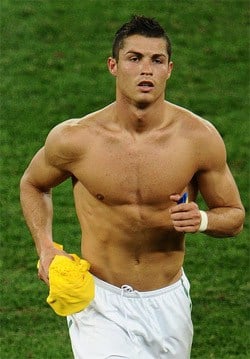 Cristiano Ronaldo launches website.

Gordon Ramsey checks out some male ham hocks in St. Tropez.

Two injured in shooting during vigil for man shot to death at SF Gay Pride.

Florida State University expands non-discrimination policy to include sexual orientation, gender identity, and gender expression.

Jennifer Love Hewitt has a thing for Brent Corrigan.

Three men charged with conspiracy in killing of Robert Wone found not guilty: "No one has yet been charged with the murder of Wone, the former general counsel of Radio Free Asia who was stabbed three times in the chest on the evening of Aug. 2, 2006 in a Dupont Circle townhouse. And on Tuesday, a Washington, D.C., judge found the three men charged with conspiracy not guilty on all counts. Click here for the WaPo article; here for coverage from the Who Murdered Robert Wone? blog; here for previous LB coverage of the Wone situation.
Prosecutors had accused Joseph R. Price, 39, Victor J. Zaborsky, 44, and Dylan M. Ward, 39, of covering up the slaying of Wone in the trio's Dupont Circle home…Attorneys for Price, Ward and Zaborsky, who were arrested in 2008 and later released on their own recognizance, say they were unfairly targeted because they are gay."

Watch: Harry Potter and the Deathly Hallows trailer.

Cheyenne Jackson will have an episode arc on the eighth season of Curb Your Enthusiasm.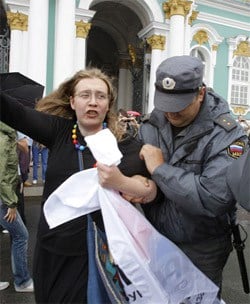 Four gay activists detained at St. Petersburg, Russia rally: "St. Petersburg police detained at least four gay activists on Saturday during a rally at the Hermitage Museum, a police spokesman said.
About two dozen gay and lesbian activists gathered in the tourist-packed courtyard of one of the world's most famous museums carrying banners and chanting 'Homophobia is the country's shame.'
Although the rally was not publicly announced, a small group of ultraright activists came to the square attempting to attack the protesters, local media reported, adding that four or five of them were detained."

Religious right launches fax campaign against Elena Kagan.

Meet Grandpa Gaga.

Miley Cyrus: Like vs. You Know.

Gay gift shop in Portland, Maine has Pride flag torn down: "We wanted to hang a pride flag out above our sign, and we put it out on Saturday and Monday night it was ripped down. They ripped the flagpole, everything, down. They took the whole thing. It's kind of disappointing going into Pride (Week), and we'd like to think we can put things out in support and not have them destroyed."

Caroline Manzo and Kim Zolciak trash Danielle Staub's lesbian leanings.

Tuna fisherman catch Great White off the coast of Massachusetts.

Delhi Gay Pride parade postponed for cooler weather.

Slovenian gay bar bombed: "Unknown perpetrators attacked last week a Ljubljana bar popular with the gay community with Molotov cocktails. The bar as well as the house of a judge who sentenced in March three men to prison for a 2009 assault on a gay activist were also sprayed with homophobic graffiti."

Steve Carell punching out at The Office.

BP slick reached Mississippi while Haley Barbour was fundraising in Washington: "Continuing his record of dismissing the magnitude of the BP disaster, Barbour said on Friday after he returned to Mississippi that major slicks miles long within the Mississippi Sound 'shouldn't be a cause for alarm.' By Saturday, there were 'long, wide ribbons of orange-colored oil for as far as the eye could see and acres of both heavy and light sheen moving into the Sound between the barrier islands.'"