KITV reports: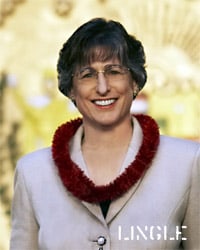 "Lt. Gov. James 'Duke' Aiona said on Thursday Gov. Linda Lingle will put the civil unions bill on the veto list Monday when she informs lawmakers about bills she might veto. Aiona said that does not mean the governor will veto the bill that would give all the rights of marriage under Hawaii law to same sex and heterosexual couples. 'It will be a potential veto and the governor right now is crafting her decision as to whether of not she will or will not veto that bill. Some, we will find out. The deadline for that is July 6,' Aiona said. The governor's potential veto list is to inform lawmakers of bill that might be vetoes to give them time to determine if they want to override her vetoes."
You may recall that Lingle met with anti-gay activists to discuss the bill for two hours last month.
Also, earlier this week Lingle, who is Jewish, spoke with two rabbis who have contrasting views on the subject. One believes that legalizing same-sex civil unions "is not something that should be condoned or should be legalized." The other claims that "civil unions are a legal arrangement, therefore, anyone who uses religion to oppose civil unions is purely using religion to further homophobia."
Both rabbis, post-meeting, say that neither is sure if Lingle would veto the bill or not.