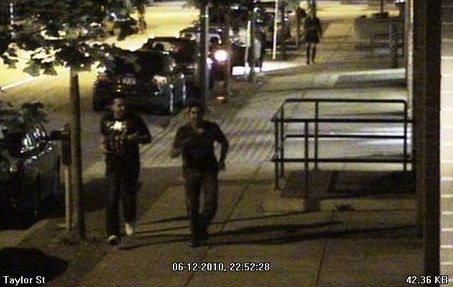 Earlier this week Andy reported on the brutal attack of David Holtzman and his partner, Peter Regier. The two were punched repeatedly and bitten (yes bitten) by two men who the couple found urinating on the steps of the their townhouse. Today Vancouver police released still images taken from a security camera of two men they believe to be the assailants.
The Province also reports:
Holtzman said he believes the suspect has connections to the Ultimate Fighting Championship (UFC) event that took place several blocks away at GM Place. "I know that the police have been given evidence saying that the primary suspect has links to UFC," he said. "It is gay-bashing, but it also is how do we make and keep our neighbourhoods and our communities safe?"
Vancouver police will not comment on a link between the UFC match and the attack. Watch a news report about the incident here.
Meanwhile, a new report claims that Vancouver is Canada's hate crime capital. The city apparently sees 6.3 hate crimes per 100,000 people as opposed to Montreal which sees 1 hate crime reported per 100,000.
Of the 143 incidents in Vancouver in 2008, 40 were based on religion, 61 were race or ethnicity-based hate crimes, 34 were based on sexual orientation and eight had unknown motivation. Across Canada police reported 1,036 hate crimes in 2008, up 35 per cent from 2007. StatsCan says the gay-bashing crimes were more violent than those based on race and religion, and 85 per cent of the victims of gay-bashing were male.