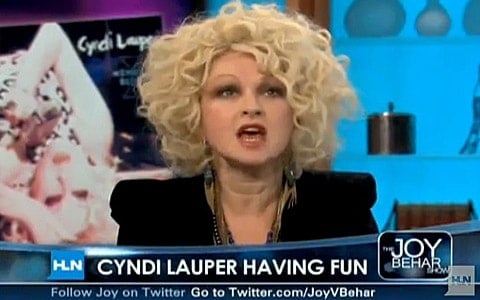 Joy Behar asks Cyndi Lauper why female artists like Lady Gaga and Miley Cyrus need to continue to up the ante with stunts and outrageous fashion to get noticed. 
Says Lauper: "You know, it's hard. When you become famous they don't give you a handbook."
The NYDN reports that Lauper is getting her own reality show: "Now that she's been bitten by the reality-show bug, she's moving on to another project: her own reality program with 'Survivor' czar Mark Burnett. It will be about what Lauper calls 'the comedy of our lives' — meaning life on the upper West Side with her husband of 19 years, actor David Thornton, and their 12-year-old son, Declyn."
Watch Lauper, whose album Memphis Blues is released this week, AFTER THE JUMP…