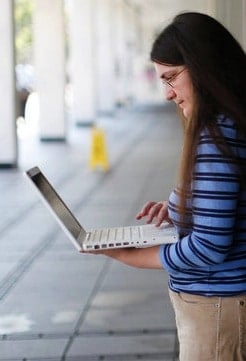 The New York Times has published an interesting profile on Eve Tushnet, a conservative lesbian Catholic writer who chooses to be celibate for religious reasons. She is also of the belief that all gay people should abstain from sex and takes on the traditionally Catholic view that only heterosexual couples should be allowed to marry.
"…Same-sex marriage, she wrote in The New York Post in 2007, 'can bring one of three outcomes: A two-tiered marriage culture, where heterosexual couples are asked to do the hard things (sex only within marriage, marriage for life in most circumstances) and homosexual couples work out their own marriage norms; reshape marriage into an optional, individualized institution, ignoring the creative and destructive potentials of 'straight' sex; or encourage all couples to restrict sex to marriage and marry for life, and hope that gay couples accept norms designed to meet heterosexual needs.'"
But don't accuse Tushnet of being self-hating. She insists that she's not and loves electro-pop music as much as receiving daily Communion.
"'I really think the most important thing is, I really like being gay and I really like being Catholic,' she says. 'If nobody ever calls me self-hating again, it will be too soon. Nothing is quite as great as getting up in the morning, listening to the Pet Shop Boys and going to church.'"