The closing arguments in Perry v. Schwarzenegger, if one could call them that, are done, with– as expected– no ruling from the bench. Judge Walker scheduled the final round of testimony and rebuttal five months after the initial testimony so that he could have time to prepare the 39 questions he asked both sides to address in closing. If you missed the Twitter stream this afternoon, you'll wish it was televised after dipping into some of the summaries.
Unofficial transcript at the AFER site.
More coverage from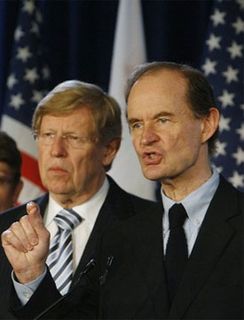 Courage Campaign, along with their clever project acting out the trial.
Good round up  at Huffington Post.
One side seemed a whole lot better prepared than the other, with the proponents of Prop 8 so unable to avoid Boies' logic that David Blankenhorn of the Institute for American Values made a number of statements clearly affirming the need for marriage equality (on display at Pam's House Blend).
In fact, Boies' questions were so effective at getting Blankenhorn to make the case that adoptive parents are better that when Olson came back to it during rebuttal, observers were "literally laughing and banging palm on foreheads" in the gallery,  reports Firedoglake. Check it out for their SportsCenter-like play by play of the legal team strategy scoring points today, but also covering bases most of us wouldn't know needed covering for the inevitable Supreme Court appeal.
Blankenhorn's respect for the "dignity of homosexual love" -Though a committed member of those opposing gay marriage — is not actually news. The Independent Gay Forum noted his take in 2007 commenting on the this Gay Marriage Edition of Bloggingheads.
Not to worry, it was sufficiently balanced by arguments irrational, illogical and surreal. With Twitter the only way to follow along, at times it seemed like sitting behind Waldorf and Stadtler in the Muppet balcony  or with the MST3K commentators without actually being able to see the show. Over the course of this trial, Twitter news coverage has clearly come of age.  Compare the awkward first day's unplanned twitter coverage to today's mastery of the 140 characters.
Kate Kendell's distillation of the trial was so concise she had characters left to pour out a drinking game, counting the shots  each time the other side used some version of the word "procreation."
The re-tweeting, replaying and second-guessing continues.
The judge has broad authority to determine the time and possible outcomes which range from dissolving the 18,000 legal same sex marriages as proponents of Prop 8 asked again today, to ordering that new marriages be performed without waiting for the appeal.