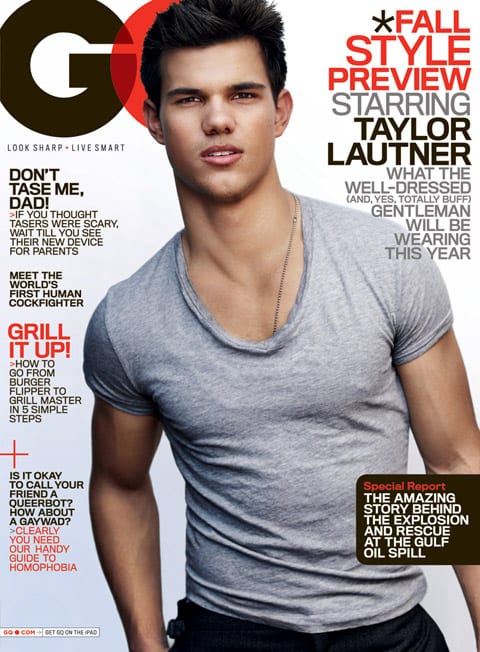 More photos at GQ.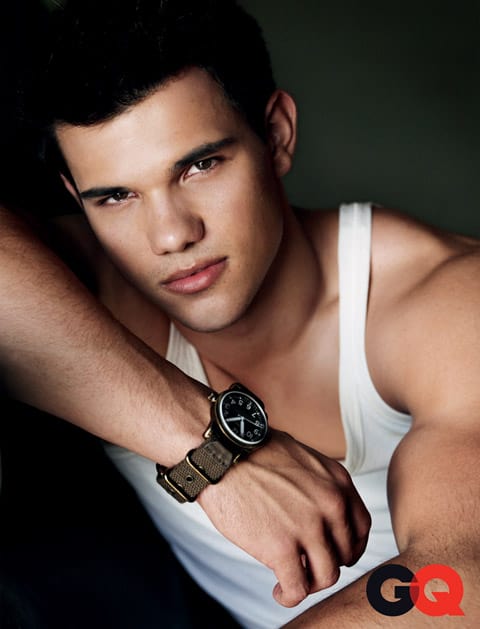 New Moon twink beefcake Taylor Lautner nabs the cover of GQ this month, and talks to them about how he takes preventive Advil to deal with screaming girls, as well as ingests bags of meat to keep his six-pack in shape:
Lautner admits to some dark, if brief, moments of self-doubt. He hired a personal trainer on his own dime and started practicing some Tony Robbins mind tricks. "I'm in the gym," Lautner says, "and I'm doing reps, and I'm reading the books, and I'm studying the character. I'm just saying to myself, 'I want this role. I love this role. I'm not gonna lose it. And I'm gonna know it better than anybody, and I'm gonna do that extra rep, because I'm gonna be Jacob Black.' " He ate every two hours, mostly meat his parents cooked and then packed in a cooler he kept in the car. Sitting in traffic, Lautner would eat cold ground chuck from plastic Baggies. He put on thirty pounds of muscle, consented to a screen test with Stewart (who lobbied on his behalf), and kept his job. He also solved the film's marketing issues when his abdominal muscles became New Moon's main talking point, not to mention his calling card. In one scene, Stewart crashes a motorcycle, and Lautner rushes to her aid. "It's just blood, Bella," he says. "No big deal." And then pauses to peel off his shirt.

As if on cue, a twentysomething man slides up to our table. "I'm sorry," he says, "can I take a photo? Uh, my niece is a big fan."
Photos by Mario Testino. Lautner's GQ cover, AFTER THE JUMP…