State Senator Kim Reynolds may have accidentally revealed her support for civil unions in her state of Iowa. Reynolds, who is Republican candidate for Governor Terry Branstad's running mate, told the Iowa Independent the following: "I believe that the definition of marriage is between one man and one woman from a religious aspect. That is my belief. I have stated that. I have always believed that."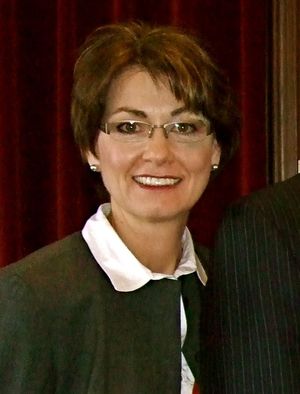 But then, in the same interview, Reynolds also revealed that she does indeed support some sort of of same-sex union recognized by the state. "We could take a look at civil unions. There are other options maybe that I would be in favor of looking at."
As you know, marriage equality in Iowa just celebrated its one-year anniversary earlier this year. According toKCCI, the Branstad campaign supports a constitutional amendment to bansame-sex marriage.
Naturally, a spokesperson for the Branstad campaign is backpedaling, claiming that what Reynold meant to say was that she supported private civil union ceremonies, not ones that are authorized by the state.
According to one political analyst: "Certainly in the contemporary Republican party, the issue of gay marriage or anything having to do with it is the third rail of Republican politics. You do anything that indicates any kind of favorable attitude toward that and you're risking your political life."
Watch video of an uncomfortable and nervous Reynolds, whose voice and appearance give off major Sarah Palin vibes, discuss her thoughts on same-sex marriage, as well as abortion, AFTER THE JUMP.