The trouble with the Catholic Church is endless. The Vatican issued a response yesterday to the cover story put out by the Italian magazine Panorama in which reporters secretly recorded several gay priests at gay clubs and having casual sex with strangers.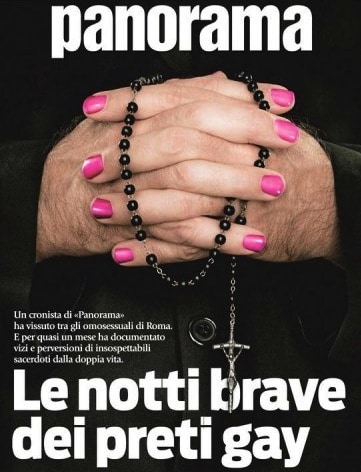 The Guardian reports on some of the revelations from the exposé: "'One priest, a Frenchman in his 30s identified as Father Paul, attended a party at which there were two male prostitutes then said Mass the following morning before driving them to the airport, Panorama reported. A photo on its website claimed to show the priest in his dog collar but without his trousers with a gay man who acted as decoy for the magazine. In other shots, priests were shown apparently kissing Panorama's collaborator."
"A member of the clergy quoted by the magazine put the proportion of gay priests in the Italian capital at '98%'. The Rome diocese insisted the vast majority of priests in the city were 'models of morality for all', while adding that the number of gay clergyman was 'small, but not to be written off as isolated cases.'"
The Vatican said that it is "saddened and troubled" by the scandal.
According to the AFP, "'The Rome diocese pledged to pursue 'with rigour
any behaviour that is unworthy of the priestly life'. It added: 'No one
obliges them to remain priests and keep enjoying the advantages.
'Consistency demands that they reveal themselves. We don't wish them
any harm, but we cannot accept that the honour of all the others is
dragged through the mud because of their behaviour.'"
Interestingly, Panorama magazine is owned by Italian Prime Minister Silvio Berlusconi.