A conservative group called the Pacific Justice Institute petitioned the 3rd District Court of Appeal on Monday, seeking to force California Governor Arnold Schwarzenegger and Attorney General Jerry Brown to defend Prop 8 in court, something both have said they will not do.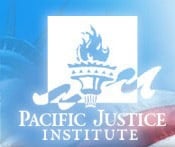 According to a press release from the group filing the petition:
The new lawsuit is being filed by Pacific Justice Institute on behalf of Dr. Joshua Beckley, a minister in the Los Angeles area. The lawsuit is called an extraordinary writ of mandate and was filed with the Third District Court of Appeal in Sacramento. The writ asks the court to enforce Government Code Section 12512, which states that the Attorney General "shall defend" the state and its public officials against all legal challenges. At a minimum, the suit argues, this law requires Attorney General Brown to file a one-page Notice of Appeal of Judge Walker's decision. Otherwise, the Attorney General can effectively veto ballot initiatives by simply refusing to defend them in court.

The lawsuit includes a sworn Declaration from former U.S. Attorney General and legal advisor to Governor Reagan, Edwin Meese III. Meese affirms that neither he nor Governor Reagan refused to defend duly-enacted laws based on personal disagreement with the laws. Former California Attorney General Dan Lungren has also publicly stated his belief that it is the attorney general's duty to defend all state laws, regardless of his personal feelings or beliefs.
As you may recall, Schwarzenegger and Brown both pushed for same-sex marriages to resume in the state before the Ninth Circuit court issued another stay and said they would hear an appeal.
Equality California Executive Director Geoff Kors issued a statement condemning the lawsuit:
"This is an outrageous attempt to try and force elected officials who have sworn to uphold the United States Constitution to defend a law that the Federal Court has found to be unconstitutional. It demonstrates their acknowledgement that the proponents of Proposition 8 lack standing to appeal, that the case should be dismissed and loving same-sex couples should be allowed to exercise their constitutional right to marry."