A challenge to Mexico City's marriage equality law by federal prosecutors who said it endangered the family has been rejected by a vote of 8-2 in Mexico's Supreme Court, the AP reports: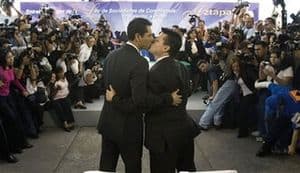 "The court must also still rule on the constitutionality of a provision of the Mexico City law that lets same-sex couples adopt children. It is expected to address that issue Monday.
'We are very happy,' said Mexico City lawyer Leticia Bonifaz, who argued the capital's case. 'It fell to us to carry to a conclusion a struggle that has taken a long time.'
Justices who voted on the majority side stressed that while Mexico's constitution enshrines protection for families, it does not define what a 'family' is.
Hundreds of couples have been married so far under the six-month-old law, the first of its kind to be enacted in Latin America when it took effect March 4."
Justices disagreed on whether "procreation" was an essential element of a family. Another justice called family an "open concept".
More from the AP…