PARTIAL LIST OF ATTENDEES
WALL STREET FIGURES and FIRMS
Kohlberg Kravis & Roberts (KKR)
Henry Kravis
Sir Deryck Maughan (former Vice Chairman of Citibank and Salomon Brothers)
Alex Navab
Scott Nuttall
John Pfeffer
Lewis Eisenberg
David Sorkin
Blackstone 
Garrett Moran
Third Point Capital
Daniel Loeb
Carlyle
Jay Sammons
Elliot Management
Paul Singer
Sundar Srinivasan
Dan Senor
Terry Kassel
Evercore Partners 
Charles Myers


Clarium Capital 
Peter Thiel
Goldman Sachs
Todd Malan
Lincoln Park Capital
Mark Cozzi
TPG
Nick Stone
POLITICAL
Former Republican Governor William Weld from Massachusetts
Former Republican Governor Christie Todd Whitman from New Jersey
Former Clinton White House Chief of Staff, Obama Advisor and head of Center for American Progress John Podesta
Former Republican National Committee and McCain finance chairman Lew Eisenberg
Former McCain for President Chief Strategist Steve Schmidt
Former House Majority Leader Dick Gephardt (Democrat)
Former Bush Federal Election Commission Chairman Michael Toner
Chairman of the Manhattan Institute and former Chairman of the Giuliani Presidential campaign Paul Singer
Former Bush White House Communications Director Nicolle Wallace
Former Bush Deputy Ambassador to the United Nations Mark Wallace
Former RNC Chairman and Bush Campaign Manager Ken Mehlman
Former Advisor to Presidents Nixon, Ford, Reagan and Clinton David Gergen
LGBT Community Members
Activist and Author David Mixner
Freedom to Marry Executive Director Evan Wolfson
Gay and Lesbian Alliance Against Defamation President Jarrett Barrios
Board Chair of the Empire State Pride Agenda Frank Selvaggi
Human Rights Campaign New York Marriage Director Brian Ellner
Former Chief of Staff to Minority Leader Dick Gephardt and Deputy Campaign Manager to John Kerry for President Steve Elmendorf
Senior Vice President for External Affairs at the Center for American Progress Winnie Stachelberg
Democratic National Committee Treasurer Andy Tobias
Former Clinton White House Advisor Richard Socarides
Academy Award Winning Producer and AFER Board Member Bruce Cohen
Gill Action Fund Executive Director Patrick Guerrero
Gill Action Fund Deputy Executive Director Bill Smith

COREY JOHNSON
Tonight I attended a highly anticipated fundraiser for the American Foundation for Equal Rights (AFER) in New York City at the Mandarin Oriental in the Time Warner Center. The fundraiser was co-chaired by former Republican National Committee Chair/Kohlberg Kravis & Roberts partner Ken Mehlman, Paypal Co-Founder Peter Thiel and Elliott Management hedge fund CEO Paul Singer.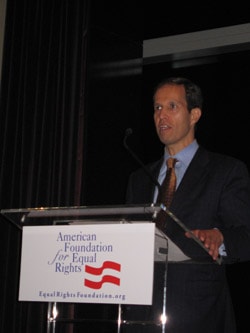 The fundraiser was initially supposed to be held at Singer's home but had to be moved to accommodate a crowd of over 120 people. It was announced by Mehlman that more than 1.2 million dollars was raised tonight. The energy in the room was hopeful, enthusiastic and celebratory even in the face of yesterday's setback on Don't Ask, Don't Tell.
The crowd was a diverse mix of Wall Street titans, Republican establishment figures, LGBT community advocates and politicos (partial list below after the jump). Barbara Bush, President George W. Bush's daughter attended the event — which was a surprise to people in the room.
Mehlman opened the event by speaking about the importance of achieving marriage equality and explained how he came to be involved with AFER. He acknowledged and thanked people who helped raise money for the fundraiser and also different members of the LGBT community. Mehlman said that this is just the beginning of his involvement and that he regretted that he hadn't gotten to this place sooner.
Said Mehlman: "As someone who regrets very much not being involved, and not being on the right side of this important effort until recently, let me just say this. This will be my first but not my last event and I hope you will stay involved too."
Video, AFTER THE JUMP…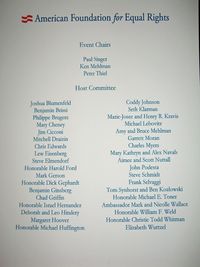 Mehlman introduced Peter Thiel, a gay conservative who is hosting an event for GOProud at his New York home this fall. Thiel was brief and spoke about how marriage equality should not be a partisan issue.
Mehlman then introduced Paul Singer, a titan in finance and former Chair of the Giuliani for President Campaign in 2008. Singer gave a very moving speech about why equality for gay and lesbian people mattered so much to him. He spoke about his openly gay son and his son-in-law and how personal the issue was to him. He received a loud, standing ovation after his remarks.
A video was played that showed all of the media coverage from the very beginning of the Proposition 8 lawsuit, chronicling all of the events leading up to Chief Judge Vaughn Walker's decision declaring Proposition 8 unconsitutional. The video was inspirational and uplifting, serving as a crescendo to the introduction of Ted Olson and Chad Griffin.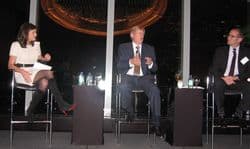 CNN's Campbell Brown then came on stage with Olson, one of the lead attorneys' in the case, along with Griffin, the President and Founder of AFER. Brown interviewed Olson and Griffin on topics ranging from how they came to meet each other, what the next steps are in the appeal process, whether or not Olson was optimistic about the outcome and how this case fit into past marriage decisions at the Supreme Court.
Olson's clear and unvarnished optimism was outwardly apparent in all of his remarks and answers to questions from Brown and also from the audience.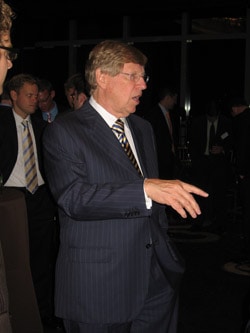 Olson said that he was confident with the case, plaintiffs, witnesses and evidence that opponents of Proposition 8 provided during the trial last January and that he believes that the case will ultimately land at the Supreme Court of the United States with a successful result.
Chad Griffin said this about tonight's fundraiser: "Tonight represented much more than $1.2 million to fight Proposition 8 in the 9th Circuit and the Supreme Court. This unprecedented gathering of bipartisan political leaders and Wall Street titans demonstrates the shift of momentum that's possible when it becomes clear that marriage equality isn't a special interest issue, but rather one of fundamental American values. That has been the focus of the American Foundation for Equal Rights, and while there is certainly a tremendous amount of work to be done, it is gratifying to see such progress."
After a difficult and painful day in the United States Senate yesterday, the palpable optimism at the fundraiser was unmistakable and welcome for the attendees.
Watch VIDEO of Mehlman, Thiel, and Singer (apologies, we were only able to grab a partial portion of Singer's speech), AFTER THE JUMP…