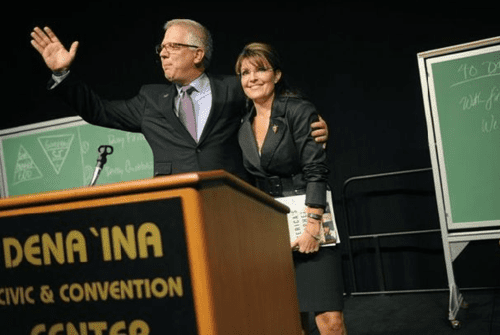 Fresh off their tag team rally in DC a couple of weeks ago, Glenn Beck and Sarah Palin reunited in Anchorage on the ninth aniversary of 9/11. Thousands of people (over) paid somewhere between $73.75 and $225 to hear the two talk for about 2 hours.
The New York Times reports on the details of the event:
They shared somber remembrances of the terrorist attacks nine years ago, reiterated the "Faith, Hope and Charity" message from the last time they appeared together (at Mr. Beck's massive "Restoring Honor" gathering in Washington on Aug. 28). They bashed the media.

"Let me tell you, folks, it's a brutal, leftist-dominated lamestream media world out there," Mrs. Palin screamed to a cheering crowd of about 4,000 at a sprawling downtown convention center here.
Beck claimed that the country has become complacent in its safety since the attacks ("I fear that we are forgetting what it takes," he said) while Palin pointed the finger at President Obama:
"It starts from the top," she said. "Those who kind of set the tone in our country that would lead us towards a complacency that is very, very, very dangerous. I fear that is why we are seeing the patterns we're seeing right now, especially over the last 20 months."
As for if either will run for president, Beck: "They joked about a potential partnership in 2012. 'We would like to announce that in 2012…' Mr. Beck said, pausing, pausing, '…that we will both be voting.'"
Earlier in the day, Palin spoke at a 9/11 event organized by the Conservative Patriots Group in Wasilla in which she asked the crowd "What would we do without Fox News? I don't know."
I think I may have a pretty good idea.
Watch a clip of her Wasilla speech AFTER THE JUMP.