Human Rights Campaign president Joe Solmonese released the following jubilant statement, "By reinstating Major Witt, a decorated Air Force nurse discharged under 'Don't Ask, Don't Tell,' another federal court has demonstrated once again that this discriminatory law does not contribute to our nation's security or defense."
Meanwhile, Servicemembers United Executive Director Alexander Nicholson declared, "Yet another judge has taken yet another righteous, historic, and courageous stand against a discriminatory and unconstitutional law."
There's still no word from the White House or the Department of Justice, which this week issued an objection to the Log Cabin Republicans' injunction asking for a DADT ban.
Small Update: A reader pointed out to me that I neglected to include a statement from the ACLU, which represented Witt. Many apologies. Here is what ACLU executive director Kathleen Taylor had to say: Today we heard the hammer of justice strike for Major Margaret Witt. We look forward to the day when all members of our military can serve our country without invidious discrimination. [Witt's discharge] was entirely unfair to her and unwise for the military, which needs her significant skills."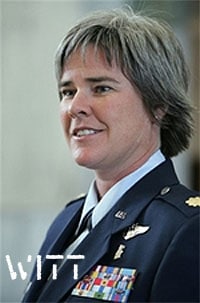 While Eddie Long's languishing in scandal this weekend, retired Air Force Maj. Margaret Witt will be busy celebrating, because federal Judge Judge Ronald Leighton ruled this afternoon that the military violated Witt's constitutional rights by discharging her under "Don't Ask, Don't Tell."
"Good flight nurses are hard to find," the Judge noted today, after a six-day trial, and told the Air Force to reinstate Witt, a move which "would not adversely affect unit morale or cohesion."
Witt's journey began in 2004, when, after 17 years in the Air Force, she was suspended and ultimately discharged under the discriminatory policy.
The resultant lawsuit led the 9th U.S. Circuit Court of Appeals to rule in Witt's favor in 2008, and this latest ruling, which impacts only Witt's discharge, has already resonated among gay groups the country.