A lesbian couple's home in Tennessee was destroyed in a fire last week while the two were out celebrating their five-year anniversary of living in the house. Police suspect arson and believe the women are victims of a hate crime. The anti-gay slur "queers" was also found spray-painted on their garage.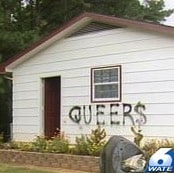 The Daily Times reports on the harassment they faced leading up to the fire:
Carol Stutte said she and Laura have been being harassed and threatened, specifically by one neighbor, on and off for about five years. "The last in-depth threats were several weeks ago," Carol Stutte said. The couple tried to ignore the threats, but eventually decided to file a report with the Sheriff's Office. "We tried to turn the other cheek and overlook it," Carol Stutte said. "When (the latest threats) finally happened we thought we better go file a police report. (The threats) have really been scaring us for some time." Carol Stutte said that, despite the arson, she has been blessed with support from people in the area, who want to help.
The couple are currently staying at a safe house and do not intend to return to what is left of their home. Meanwhile, police are still investigating and Tennessee Bomb and Arson Squad are apparently conducting interviews.
Watch a news report from WATE, AFTER THE JUMP…