Pro-equality gubernatorial candidate Neil Abercrombie won a sweeping victory in Democratic primary elections on Saturday in Hawaii, the Star-Advertiser reports: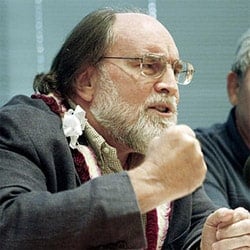 "Abercrombie crushed former Honolulu Mayor Mufi Hannemann 60 percent to 38 percent statewide and took Oahu, the Big Island and Maui while narrowly losing on Kauai. A Star-Advertiser analysis of the primary election by state House district found that Abercrombie won all but four districts: Wailuku and Kahului on Maui and Lihue and Koloa on Kauai. Abercrombie, who represented urban Honolulu in Congress for two decades, dominated on Oahu. Some of his largest margins were in districts in Hawaii Kai, Pacific Heights, Kailua and his home in Manoa. Hannemann, who served as Honolulu mayor for the past six years, lost every district on his home turf and only managed to take a handful of precincts in Pearl City, Kapolei and Kahuku. Voter turnout was 40.9 percent of registered voters, which was slightly higher than it was in the primary two years ago but a record low for a primary in a gubernatorial election year. A record 42 percent of voters cast ballots by absentee mail or early walk-in voting."
Abercrombie faces Lt. Gov. James "Duke" Aiona in an election for outgoing anti-gay governor Linda Lingle's office in November. As you may recall, Lingle vetoed a civil union bill earlier this year.