New AP poll: 52% of Americans support marriage equality.

Pope beatifies cardinal John Henry Newman, who may have been gay.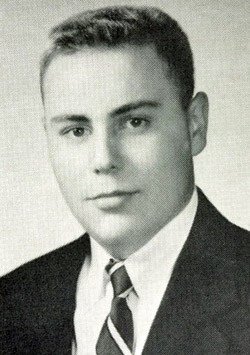 James Stoll, forgotten gay hero? "Mr. Stoll, one of the first openly gay ministers in America, had a difficult life, and his demons seemed to follow him to an early grave. But he was hugely responsible for introducing American churchgoers to gay rights. For those who support gay rights, he ought to be a hero; for those troubled by increased acceptance of homosexuality, he makes a vivid villain."

David Beckham's nipples back in business.

The political risks of supporting gay rights? "…there may be good reasons for the president to move slowly. Historically, American presidents have rarely gotten far ahead of public opinion on civil rights issues, and the few times they have, they've paid a substantial price for doing so."

His royal search and rescue.

Play: The shortlist for YouTube's collaboration with the Guggenheim museum is online.

Gay vengeance, alleged physical attraction figure in lack of misconduct charges for harassment by Duke College Republicans of the group's former chairman Justin Robinette. 

John Cena plays muscle dad in new movie.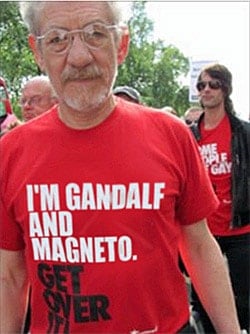 Unfortunately, this brilliant shirt Ian McKellen is pictured in at the "Protest the Pope" rally, appears to be Photoshopped.

Straight British professional cricket player Jimmy Anderson poses nude for cover of Attitude magazine. Anderson: "There's a perception of lots of committees and old men being quite prim and proper, but I think the game is moving with the times. From my point of view, I think doing this could be fantastic for cricket. Hopefully this will attract a new sort of fan."

Dead or Alive's Pete Burns debuts new facial piercings.

Male model fix: Lars Burmeister.

UK: 1 in 8 B&B owners won't let gays share a bed.

Gay Discovery Channel hostages shares his story: "In my mind I was thinking this is the end, this is the end of my life. This is what my life has come to. I got really upset and started to get really mad. And the fact that somebody could take this power away from me and he's going to decide when I lose my life. I started to thinking in my head. I'm like, 'No this is not the way this is going to end. I'm not going to die here on the floor.'"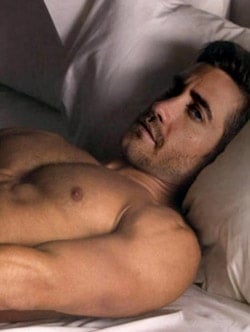 The Jake Gyllenhaal Love and Other Drugs still you'll wish wasn't Photoshopped.

AP catches up on reports that the Montana GOP want to criminalize homosexuality.

A blind man's experience with the iPhone: "I have seen a lot of technology for the blind, and I can safely say that the iPhone represents the most revolutionary thing to happen to the blind for at least the last ten years."

UK cat bin dumper charged with animal cruelty.

Can gays be conservative? WorldNetDaily's Joseph Farah vs. GOProud's Christopher Barron.

Houston Mayor Annise Parker lauded for performance: "Fourteen percent of poll respondents rated Parker's job performance as 'excellent.' Forty-two percent said she was doing a 'good' job. Twenty-seven percent described her performance as 'fair,' and just six percent said she was doing a 'poor' job."