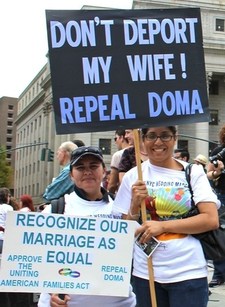 Virginia's Republican Governor, Bob McDonnell, says that he will not declare next April "Confederate History Month."

Towleroad reader Lavi Soloway posted some incredible pictures and video from this weekend's Marriage Equality March in New York City.

No boys allowed: sensational singer Nicki Minaj says she prefers the company of women, "I don't date guys. I hang out with my girls. They're sexier, anyway, and they're more fun. And less needy."

Right wingers are describing The 99, a comic book about Islamic superheroes, as a "stealth jihad" endorsed by the "Muslim POTUS."

Darren Criss has joined Glee as the show's latest gay character, and many are wondering if he'll be Kurt's long-rumored boyfriend.

Transgender guns rights activist Nicki Stallard participated in a 2nd Amendment conference in San Francisco this weekend. Says Stallard of gay gun owners, "In the central part of the country, people don't want people to know they're gay. Here they don't want them to know they're gun owners. It's like gays who are registered Republicans might want to stay quiet about that."

A white supremacist who calls himself "Hitler" has apologized for beating an elderly black man last year: "I live in a haunted state of mind," he said. "I should have been able to conduct myself as a man, but chose the actions of a boy."

Happy Banned Books Week!

The National Organization for Marriage has filed a lawsuit against Rhode Island's election board for the right to run election ads, yet still keep political contributions a secret. Why do they think they're such a special class?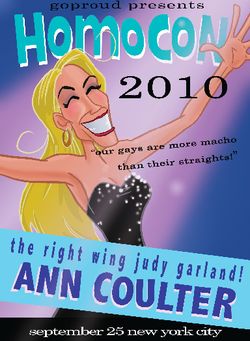 Survivor castaway Shannon Elkins tries – and fails – to defend his "Are you gay?" comment: "I don't have to ask Sash if he's gay. Look at the kid, he's gay. He kept on and on telling me I was a liar. He should have kept his mouth shut and he wouldn't have been called out in front of America."

Hard battle: outraged parents take on erectile dysfunction commercials. Think they can take down the pharmaceutical industry?

Hallmark settles with Paris Hilton over "That's Hot" card. Because she needs more money.

British journalist Paul Vallely offers a great, although unintentional, rebuttal to Ann Coulter's insistence that "[gay marriage] is not a civil right – you're not black:" "Minorities do not have a pecking order."

Bill O'Reilly's still more famous and watched than Rachel Maddow.