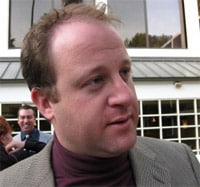 Republican Sen. Saxby Chambliss hoped to forget the "all fags must die" comment one of his staffers left on Joe My God last week.
Sadly for Chambliss, who doesn't seem inclined to investigate who precisely sent the hateful message, progressive gay Democrat Jared Polis has issued a virtual challenge.
Polis, a former internet entrepreneur, offered to go to Chambliss' office to find the culprit, a task even an internet neophyte could accomplish. 
"It's extremely easy," Polis said on Anderson Cooper 360 Friday. "We know which computer it came from and all you need to do is look at the browser history. If one of them erased their browser history, boom, you've figured out who it is."
He continued, "If they can't figure it out, I will go down there myself and do it for them." So, Chambliss, will you accept Polis' offer?
Watch Polis' appearance, AFTER THE JUMP…