There was the 1994 case of Thomas S. v. Robin Y. in New York, which involved a lesbian couple, their two children, Ry and Cade, and the man who donated his sperm so Robin could give birth to Ry. Thomas, the sperm donor, was nowhere on the birth certificate. The lesbian parents paid all expenses associated with insemination and birth, but Thomas was informed of the 1981 birth and brought flowers to commemorate it.
For the first few years of Ry's life, Thomas barely saw her. Pursuant to an oral agreement, Thomas did not call, support or give gifts to Ry. But when Cade turned five and started asking about her father, the family made arrangements to visit the biological fathers. Over the next 6 years, the families visited together about 26 times and by 1990, Thomas wanted to introduce Ry to his parents and bring both Ry and Cade — sans Robin and her partner — to his beach house for the weekend. (I did a little digging and I am pretty sure that "beach house" was in the Pines on Fire Island.)
At this point, Thomas communicated his desire to establish a paternal relationship with Ry. Robin and her partner resisted, so the five went to family court, which denied Thomas's motion. While Thomas was the biological father, the judge found him to be "an outsider attacking [Ry's] family and refusing to give it respect." The court also concluded that "a declaration of paternity would be a statement that her family is other than what she knows it to be and needs it to be."
It seems that the court was trying its best to maintain the traditional two-parent arrangement based on the theory that any scenario other than that would be too confusing to the child. It has been difficult enough for courts to conceive of mom-less or dad-less households and families, but polyparented families were an even greater stretch. Essentially, Thomas was asking to be a third parent, and the judge could not see how that could be in the best interests of the child.
The Appellate Division (New York's intermediate appellate court) disagreed. The court highlighted the uncontested nature of Thomas's biological connection and considered the case not about adding a parent, but about taking away a biological father's rights. The court assumed parental rights on the part of the sperm donor, something California's sperm donor law and the New York Family Court declined to do.
So, the Appellate Division's understanding of the word "parent" differed from the Family Court's. The latter saw parenthood both in its traditional sense and in a progressive sense: Parents come in twos, but to define them by their DNA is limiting. Conversely, the Appellate Division saw parenthood in the mirror: Parenthood must, at a minimum, include biology, but there can be more than two of them.
The court added this gem, as well:
"The notion that a lesbian mother should enjoy a parental relationship with her daughter, but a gay father should not is no innately discriminatory as to be unworthy of comment."
True, but notice what the court has done. This case, which began as a custody fight, became a discrimination suit. By slight of the pen, Thomas became Ry's father, with all the connotations that entails. The court assumed that Thomas fit the definition of "father" simply because of his DNA contribution. We all knew he was her biological father, but is there no difference between the dude who contributed sperm and the person who raised (or is raising) the child? In one simple sentence, the Appellate Division said no.
And, then there is the story of Mark LaChapelle and Denise Mitten of Minnesota. This was another three-pronged battle over a child, so get ready for this intricate tale. Denise was the biological mother, Mark was the sperm donor and biological father (and also happened to be gay), and the third party was Valerie Ohanian, Denise's former partner and co-parent to the child.
The child was planned by Denise, Valerie, Mark and Mark's partner at a time when those four people constituted two gay couples. They signed a contract that stated Mark would donate sperm, but have no parental rights or obligations, and that Denise and Valerie would have physical and legal custody of the child, but Mark and his partner could have "a significant relationship" with the child.
Mark was a common sight at Denise's house as the child was growing up. But when Denise and Valerie filed a motion for a second-parent adoption (for Valerie), Mark filed a lawsuit to stop it. He won because Denise and Valerie failed to inform the court of Mark's existence, in direct violation of the adoption agreement. Then Mark sought parental rights.
Valerie and Denise split up, the court granted some of Mark's parental rights, but left physical custody with Denise, with visitation for Valerie and Mark, with joint legal custody for Denise and Valerie. Mark did not have custody, but won visitation rights. Should I draw a map? I'm not sure it would help.
The child ended up with two legal parents, Denise and Valerie, and Mark, who had to be consulted on all important decisions relating to the child. Mark fell short of full parental rights, but the right to participate in decision-making necessarily made Mark and integral part of Denise's and Valerie's lives. That Mark was not a legal "parent" seems like a distinction without a difference.
As these cases indicate, polyparenting will become more common as gay parenting becomes more common. But our laws are not always well equipped to address the complex problems that will necessarily result.
Often, courts are loathe to deny biological parents their rights to their biological children. In the case of gay parents, that predilection will often result in a third wheel on the family bicycle. Parents who raise children in these situations need new legal protections from unwanted intrusion from the sperm donor or surrogate. Robin Y. and LaChapelle v. Mitten are relatively innocuous cases; in both scenarios, the gay sperm donor had already developed a positive relationship with the biological child with the legal parents' approval and both genuinely wanted to be part of the child's life alongside the parents. That, however, will not always be the case. In Karen R.'s case, for example, she fears the sperm donor is a flight risk who may kidnap the child and whisk away to Brazil, the donor's native country. That is one reason for sperm donor laws that take away all rights and obligations of the donor.
But, if Mark and Thomas brought suit in a jurisdiction that had a sperm donor law like that of California, they would have no parental rights. That strikes an awkward chord, as well, especially if the parties intend a relationship between the donor and the child.
When it comes to moms, surrogacy law — or, "surro-gay arrangements," when involving gay male couples, as coined by Professor Marla Hollandsworth — is still trying to catch up. In many jurisdictions, there is little desire to strip surrogate moms of their maternal rights, even if two gay male parents sign an airtight surrogacy contract. The famous case out of New Jersey, In the Matter of Baby M, which maintained the parental rights of a surrogate mom and denied the adoptive rights of the mom for whom the baby was intended, is still good law. That case also created a polyparented household, Mary Beth Whitehead (the biological mother), Mr. Stern (the biological father) and Mrs. Stern (the woman who could not adopt the child she was going to raise), but polyparenting is not something we talk about much.
We don't even know what it means to be a parent in a triumvirate of parents. What language should we use? Is it dad, dad, mom or dad, dad, surrogate? Is it mom, mom, donor or mom, mom, dad? Or, is it mom, dad, biological mom/dad? In Robin Y., the Appellate Division was pretty clear in upholding mom, mom, dad. In Mitten, the Minnesota Supreme Court agreed. But, in California, Karen R. won a mom, mom, donor ruling based on the state's sperm donor statute.
This confusion has implications in other areas. In marriage equality debates, for example, both sides usually extoll the societal and personal benefits of strong two-parent households. The role of the parents' gender may be a source of disagreement, but polyparenting is not part of the lexicon. That might be for political and strategic reasons, but it ignores the reality of how gay couples will have children. At a minimum, then, any legal regime that brings gay parents into the fold will ultimately have to address the rights of surrogates and sperm donors with much more clarity. Eventually, we will have to decide if polyparenting is a good idea and if so, when it is in the best interests of the child.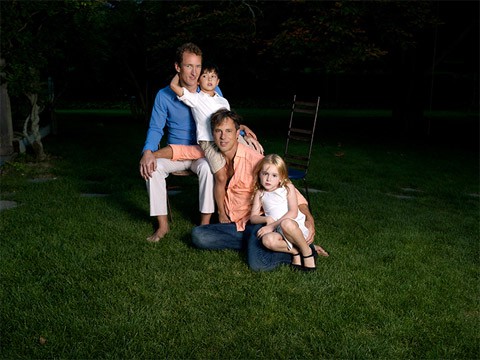 (image copyright alix smith from her states of union series)
Ari Ezra Waldman is a 2002 graduate of Harvard College and a 2005 graduate of Harvard Law School. After practicing in New York for five years and clerking at a federal appellate court in Washington, D.C., Ari is now on the faculty at California Western School of Law in San Diego, California. His areas of expertise are criminal law, criminal procedure, LGBT law and law and economics. Ari will be writing biweekly posts on law and various LGBT issues.
Neither endangered nor intimidating, gay parents are attractive, if harried mammals populating urban and suburban habitats. They buy baby bjorns, talk about poop and have little disposable income. They talk about getting Little Olivia into the best kindergarten, plan play dates with Lilly, the two-year-old daughter of Ricardo and Steve, and are perennially short on sleep. But despite their increasing commonality, gay parents are pioneers, embarking on a journey without a clear legal road map. As parenting changes to fit our modernizing society, the law is still asking a basic question: What is a parent?
A traditional family has a mom and a dad and a child (or, approximately 2 children, according to the latest census data available). The mom is identified as such because she is the biological mother; the dad, the biological father. In the normal case, that seems pretty black and white. But, when families are increasingly unconventional or unlike what they used to be, what it means to be a parent is much more of a grey area. The law is wrestling with these challenges as we speak.
Consider the case of Karen R., a lesbian mother who was stalked by her sperm donor, a gay man she found on Craigslist. I know what you're thinking. Going to Craigslist for a sperm donor is like looking for your soul mate at any dance club with the word "hole", "cock" or "rod" in it. But it is increasingly common and you can find contract templates online.
In any event, the sperm donor stopped liking the idea of just being a sperm donor and, at some point, started pushing himself on Karen R. and her partner. He wanted updates during the pregnancy, he told people he was Karen's husband and eventually sued for joint legal and physical custody. A California court granted him visitation rights, but denied him custody. The court ruled that semen for use in artificial insemination for a "woman other than the donor's wife" is legally not the "natural father." Karen's lawyer, Ilene Trabolsi, said that "[t]he law affords a statutory vehicle so that men are free to donate their sperm without fear of liability for child support and women can obtain semen for artificial insemination without the fear that the donor may claim paternity."
If a "natural father" is not the "biological father", fatherhood must be something more than giving sperm. It stands to reason, then, that motherhood must depend on more than just an egg. Not all courts agree.
In Karen R.'s case, the biological father had limited rights under California's Sperm Donor statute, but it is not at all clear Karen would be so free of her sperm donor in other jurisdictions. Nor is it so clear that such statutes that deny all rights to the sperm donor are good ideas.
Continue reading "What's a Parent?", AFTER THE JUMP…