Days after Judge Virginia Philiips issued a ruling that would cease the enforcement of "Don't Ask, Don't Tell," the Pentagon issued a memo that serves to make sure that gays in the military are not ready to tell. At least not yet. This is apparently a reaction to the recent filing for a stay against the injunction by the Department of Justice.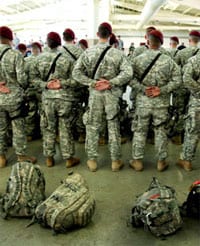 The memo, signed by the Under Secretary of Defense for Personnel and Readines Clifford L. Stanley and date-stamped yesterday, reads in part:
"In light of the appeal and the application for a stay, a certain amount of uncertainty now exists about the future of the Don't Ask, Don't Tell law and policy. We note for service members that altering their personal conduct in this legally uncertain environment may have adverse consequences for themselves or others should the court's decision be reversed."
Politico adds:
The Pentagon is walking a fine line here. Their advice is consistent with what most groups advocating an end to DADT are urging. However, Phillips found that the current policy violates service members First Amendment rights. So full compliance with her order means the government has to be very careful about not intimidating troops out of exercising free speech rights that they are guaranteed by Phillips's decision, at least so long as it stands. This may be why Stanley's memo refers to "personal conduct," putting more of a focus on acts soldiers might engage in rather than what they might say.
You can read the memo in its entirety here.
Also on Friday, the Log Cabin Republicans went to federal court to request that the stay of injunction request by the DoJ be denied.
Meanwhile, Gen. James Conway recently told Fox News that "our Marines, by and large, they say that they are concerned that (allowing gays and lesbians to serve openly in the military) will cause potential problems with regard to their order and discipline — that it will impact their sense of unit cohesion."
How did he come to this conclusion? "Informal polls" he conducted in which he claims 90 to 95 percent of heterosexuals in the military agree with this sentiment.
Looks like Conway is trying to get in as much polling as he can before he's gone. The General will retire from the Marines later this month.