The leader of a Masonic lodge in Kentucky, whose recent coming out made him the target of anti-gay slurs and a lodge walk-out, is hailing a vote on Monday by the Kentucky Masons, which rejected a proposal to bar gay men from the organization.
The Herald-Leader reports: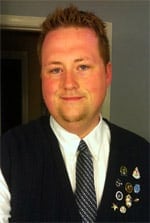 "When the leader of a Winchester Masonic lodge recently told members he was gay, he said one man called him "a flaming faggot," insisted that he resign, and led several members in a walkout. But John Wright refused to resign. Later, he stood firm when a Frankfort lodge proposed a change to the group's state constitution that would have prohibited openly gay men from being Masons in Kentucky. At an annual statewide meeting in Louisville Monday, attendees turned down the proposal…The Masons are a worldwide fraternity of men who believe in God and work to help people through their charities, according to the Web site of the Grand Lodge of Kentucky. In Kentucky, they support homes for the elderly, a rehabilitation hospital for disabled children and other causes. There are 408 chapters in the state with more than 54,000 members. The Masons, according to the Web site, teach that a person has a responsibility to make things better in the world. Each state has a Grand Lodge that is the administrative body in charge of the Masons."
Wright called the vote a "critical moment" in the organization's history, saying, "They said with a strong voice that they are not going to discriminate. I do think that there are a large number of them of a newer mind-set that they can put these differences behind them and work toward the goals that the fraternity has. They can become better men and make our communities better places."