David Leyton: Shirvell's 'leave' not enough; he must be fired immediately
Bill Schuette continues to side with Cox and Shirvell
LANSING — Michigan Attorney General Mike Cox should fire his disgraced assistant Andrew Shirvell immediately, instead of allowing him to go on a personal leave, attorney general candidate David Leyton said today.
"If I'm elected Michigan's next attorney general, Andrew Shirvell and any other hatemonger in the attorney general's office will be out the door the moment I take office," said Leyton, who currently serves as Genesee County prosecutor. "Michigan taxpayers shouldn't have to pay the salaries of bullies like Andrew Shirvell, and they won't under my watch."
Earlier this week, Leyton called on his opponent in the attorney general's race, Bill Schuette, to join him in demanding Cox fire Shirvell. Schuette refused, saying, "when you're not on the government job, you ought to be able to express your opinion," according to the MIRS newsletter.
"Mike Cox doesn't have the guts to do what's right and fire Andrew Shirvell, and Bill Schuette is proving that he would provide the same weak excuse for leadership as our current attorney general," Leyton said. "Michigan needs a watchdog attorney general who will stand up to bullies — not lapdogs like Bill Schuette, who is content to let bullies and stalkers continue collecting a government paycheck."
Shirvell, an assistant attorney general, runs a website dedicated solely to attacking UM student Chris Armstrong, the elected student body president, just because he's an openly gay man. Shirvell's hate-filled website calls Armstrong "Satan's representative on the student assembly" and a "privileged pervert." Shirvell has even gone as a far as protesting outside Armstrong's home.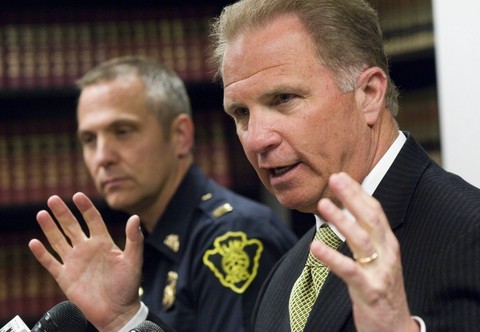 David Leyton, the Democratic Attorney General candidate in Michigan, made quite clear today that he will not stand for the homophobia exhibited on Andrew Shirvell's blog.
"If I'm elected Michigan's next attorney general, Andrew Shirvell and any other hatemonger in the attorney general's office will be out the door the moment I take office," insisted Leyton in a press release sent out today. "Michigan taxpayers shouldn't have to pay the salaries of bullies like Andrew Shirvell, and they won't under my watch."
Leyton also used the statement to point out that his Republican opponent, Bill Schuette, has said he wouldn't reprimand homophobia: "Mike Cox doesn't have the guts to do what's right and fire Andrew Shirvell, and Bill Schuette is proving that he would provide the same weak excuse for leadership as our current attorney general," said Leyton "Michigan needs a watchdog attorney general who will stand up to bullies — not lapdogs like Bill Schuette, who is content to let bullies and stalkers continue collecting a government paycheck."
I've included the entire press release AFTER THE JUMP…