Movie #3 involves twin boys Marcus and Jason (Frankie and George McLaren) who live in England with their drug addict mom and cover for her with visiting social workers. Tragedy will strike them too.
 Despite three separate chances to offer up an involving story or characters, the movie is strangely stiff and repetitive. The opening sequence is practically the only one that barrels forward with a vivid pulse though a subplot involving George and a cooking class adds some unexpected color and welcome humor. Hereafter does have touching moments (the subject matter all but guarantees it) and if you can excuse the tsunami insensitivity, it's exceptionally well meaning; there will be no  holier than thou sermonizing about living a certain kind of life to deserve a pleasant hereafter, no denominational wedges to separate you from your neighbors. But Hereafter is also maudlin to a fault. (Eastwood really must stop writing his own musical scores.) Eventually, as you've already surmised, the three movies will become one. But that happens much much later and they'll still feel like three, as the characters stiffly pace around each other waiting for something to happen or perhaps for the end credits to roll.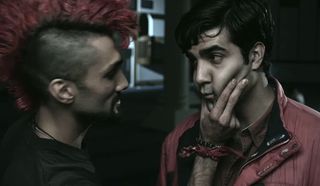 ALSO OPENING: Should you be seeing PARANORMAL ACTIVITY 2 this weekend, good luck. (You know the odds with horror sequels.)
In limited release there's one queer interest film. Strand Releasing, a theatrical distribution company that's been good to the gay community for twenty years now, is offering the Islam Punk scene drama TAQWACORE (pictured left). The film promises a full range of Muslim characters you won't ever see from a Hollywood film: straight edgers, riot grrrls in burkas and openly queer punks all intermingling in the apartment of a college boy in Buffalo, New York that's a mosque by day and a live club at night.