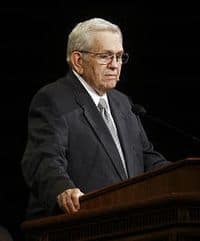 The Mormon Church has retroactively edited leader Boyd K. Packer's controversial speech from last week.
Where once the text on the Church of Latter-Day Saints' website included Packer's actual comments, "Some suppose that they were pre-set and cannot overcome what they feel are inborn tendencies toward the impure and unnatural. Not so! Why would our Heavenly Father do that to anyone? Remember he is our father," the text now reads "temptations," rather than "tendencies."
Also, the Salt Lake Tribune reports that the line about the "heavenly father" has been scrubbed all together, most likely because of the protests spawned by Packer's remarks.